Golf-Nordic-Walking-Martial arts-Kitesurf
GOLF in Riccione
A fun and healthy sport. Anyone that wants to play an outdoor sport should try golf.
together with the prestigious Riviera Golf Resort of San Giovanni in Marignano, 11 km from Hotel Michelangelo, we are delighted to propose the following package.
SUPER GOLF AND RELAX PACKAGE - 111 Euro per person
This special holiday includes:
Green Fee for 18 holes including use of changing room
Breakfast with 3 Buffet areas: wellness, sweet and savoury
Favourite newspaper every morning
Rich set of courtesy bathroom products
Safe in room
32" LCD TV
Reserved parking space outside the hotel
Wi-Fi internet Connection throughout the Hotel for the duration of your stay
Nordic walking & Beach Nordic Walking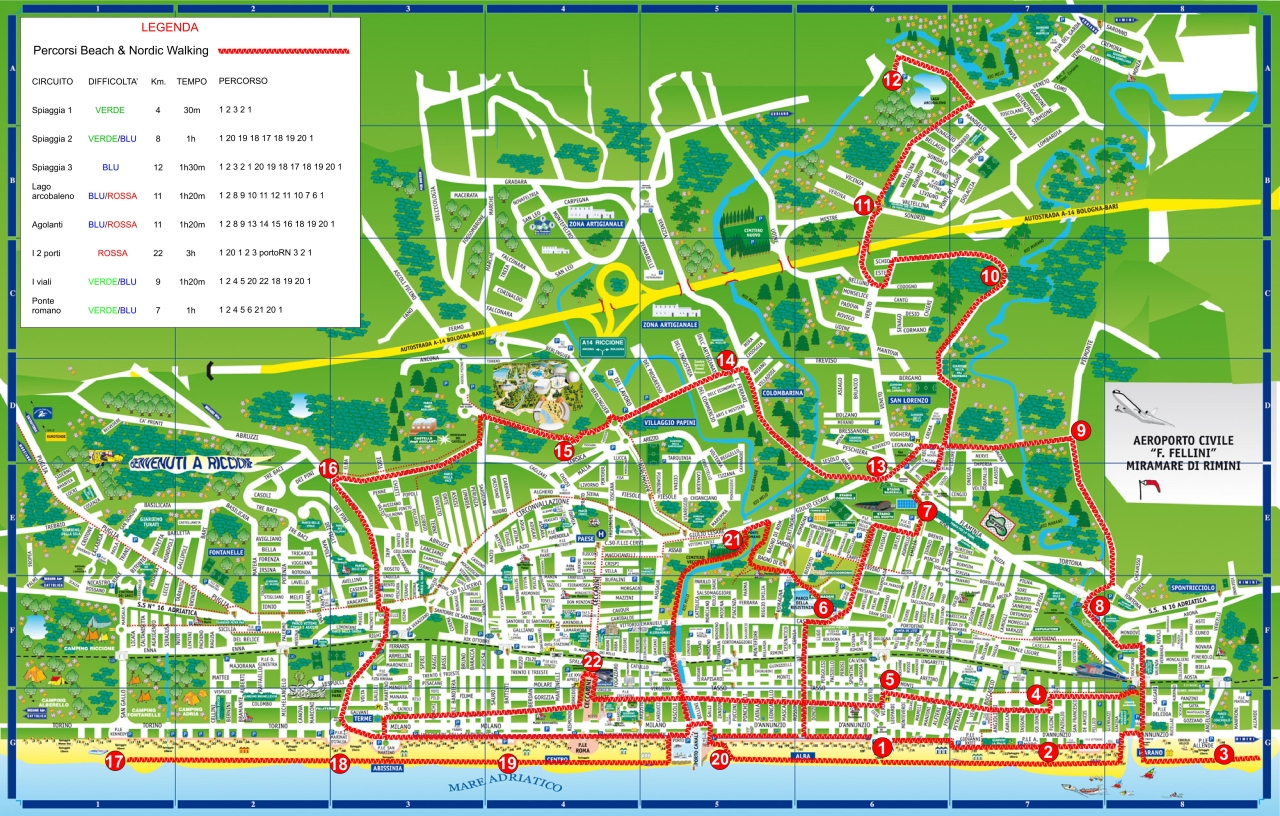 Our guests will be able to use the cycle path or beach opposite the Hotel at all times of day. For lovers of this sport, the intrigue of the winter sea is an experience not to be missed.
Percorsi piste ciclabili a Riccione
Martial Arts
Riccione is full of gyms and clubs that offer an array of different martial arts, organising courses and championships at different levels. From September to May Hotel Michelangelo also offers the possibility of organising events together with the gyms.
Kitesurf in Riccione just like in Hawaii
Kitesurfing is a sport that was invented at the end of the 90?s in the hot, windy and heavenly waters of Hawaii. It is practiced using a special board and a kite (or wing), controlled by control bar that is connected to it by long, thin Dyneema synthetic fibre cables. The ideal wind conditions for kitesurfing are between 12 and 30 kts and, unlike windsurfing, you can usually do it in gentle winds. It is also possible to use the kite both on waves (wavestyle) and on calm water (wakestyle).
VelaClub Marano
Zona 151 Riccione Vela
Surfing Club Riccione